ARE 4% MORTGAGE RATES THE NEW
NORM ?
Mortgage rates climbed for the sixth week in a row, making refinancers and potential homebuyers nervous. If it serves as consolation, rates are likely to stabilize for a few days until the Federal Reserve meets next week.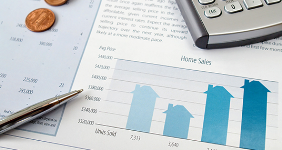 30 year fixed rate mortgage – 3 month trend
The benchmark 30-year fixed-rate mortgage rose to 4.14 percent, compared with 4.1 percent last week, according to the Bankrate.com national survey of large lenders. The mortgages in this week's survey had an average total of 0.32 discount and origination points. One year ago, that rate stood at 3.91 percent. Four weeks ago, it was 3.71 percent.
In early May, the fixed rate was 3.52 percent. It had been below 4 percent since May 2012 -- for more than a year -- up until the first week of June 2013.
The benchmark 15-year fixed-rate mortgage rose to 3.32 percent this week, compared with 3.28 percent last week. The benchmark 5/1 adjustable-rate mortgage rose to 3 percent from 2.93 percent. That's its highest level since June 2012. The benchmark 30-year fixed-rate jumbo mortgage rose to 4.32 percent from 4.27 percent